Lifecycle – Project & Technical Support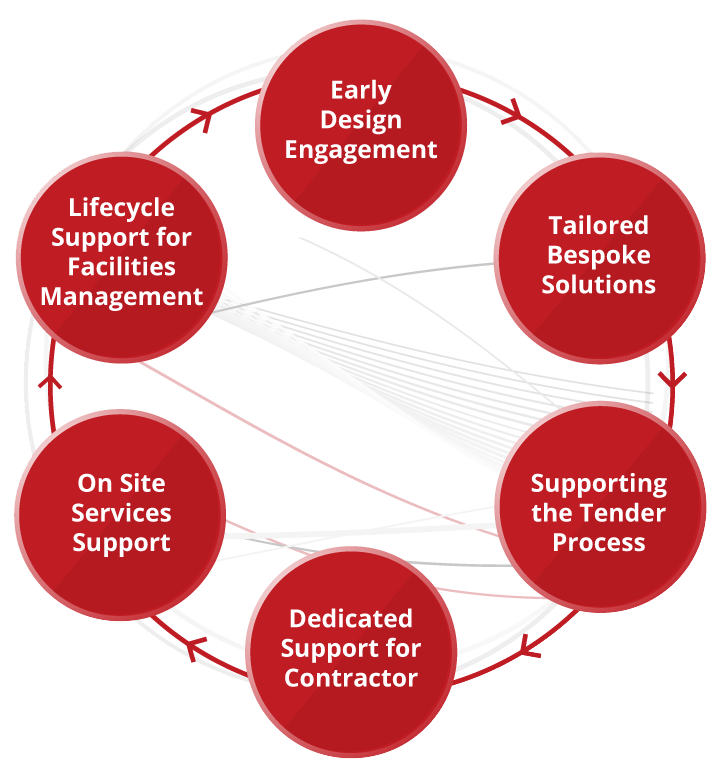 1.
Early engagement with Design Consultants and End User
Crane Fluid Systems have the technical knowledge and necessary relationships within the market to engage with designers at the very early stages of projects (e.g. Stage 2). While the design may be several months, or even years, away from being in a finished state, Crane FS are able to advise on the best strategies to adopt that will help determine critical design features such as:
Control valve strategy
Commissioning strategy (in relation to hydronic control)
Pipework strategy
Energy efficient designs
Soft Landings
2.
Bespoke Solutions / Comprehensive Range
By engaging at the earliest stages possible, Crane FS are able to adopt the Soft Landings approach of "Fail Early, Fail Often". By following this approach opportunities arise to create energy efficient solutions, meeting the client need, with the prospect of creating bespoke solutions for specific projects.
Crane FS have a wealth of industry experience and manufacturing excellence within the UK and Export markets, allowing for tailored products. This also coincides with Crane FS's extensive range of valve and manifold solutions for Variable Flow systems.
3.
Contractor Tender
At Crane FS we appreciate that multiple stakeholders will be involved at the tender stage. It is our philosophy, taken from our founder Richard Teller Crane in 1855, that we treat all customers fairly and as a result we have been able to develop an extensive range of relationships within the industry. This allows dedicated resource to be given to all of our customers to ensure a timely response.
Due to the early engagement with the designers, the concept will be at a stage where there will be minimal changes / VE requirements, ensuring a quick turnaround.
4.
Selected Contractor – Quote/Tender/Delivery
Once the contractor has been appointed, Crane FS are there at every step of the process to help deliver a successful project. These services include:
Regular meetings at customer's premises and on-site when required
Rapid quotation and schematic take-off, utilising Bluebeam technology
Technical advisory services, including valve strategy reviews, commissioning guidance and joint meetings with consultants where required
Supported deliveries through our distribution partners
5.
Installation / Commissioning
Crane FS's responsibility does not end once the product has arrived from site. Our external and inside sales teams are on hand to provide support when any queries are raised.
Crane FS have the facilities to inspect any concerns raised and respond in a timely manner with little to no impact to the project. Where the site team are unfamiliar with our products, or have queries on how to best commission the systems, Crane FS are available to give product overview training. This can range from on site to demonstrations to CIBSE accredited CPDs.
6.
Facilities Management
The construction costs of a building form only a small part of the overall costs of developing, running and maintaining that building over its expected lifecycle. Whether our products have been in the installation for 1 or 30 years, we are always on hand to offer support and on site services. These include:
Valve identification services
Like for like replacement, or suitable alternatives, suggested
Energy optimization for existing designs