The Dominator Pro
The Dominator PRO Flow Management System is a pre-fabricated unit combining the essential control components and connecting pipework associated with terminals units, into one compact, fully-assembled and tested unit ready for simple and fast on-site connection.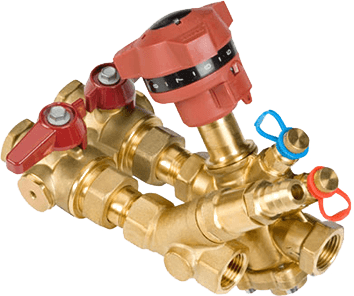 The 40mm H-Body
The H-Body unit comprising two T-Ported ball valves
Allows easy back flushing, forward flushing and isolation.
The position of the handles gives clear indication of flow / bypass mode
Designed around 3/4″ full bore ball for optimum flow.
Can be adapted to 1/2″ and 3/4″ end connections.
Simple attachment to existing fan coil units.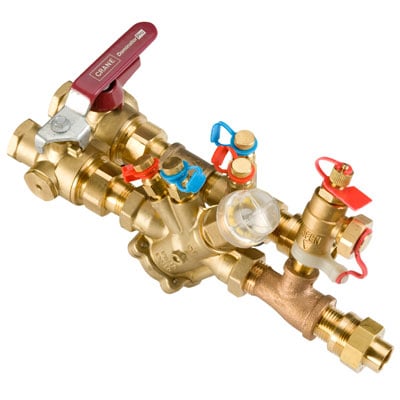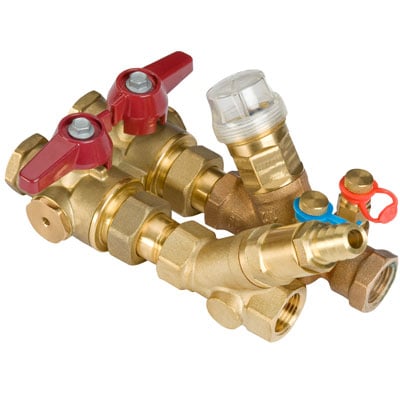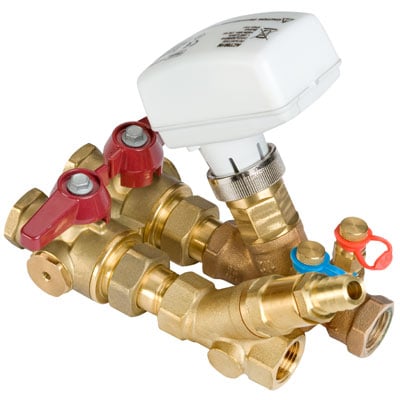 Key Features
1. H-body sub-assembly
48% lighter than previous model
2. Six PTFE seats
3. 1/2″ BSPT Taper threaded connections
4. 3-way chrome plated ball
5. 1/2″ Tailpiece / Seat retainer with Union nut
6. O-ring between body and seat retainer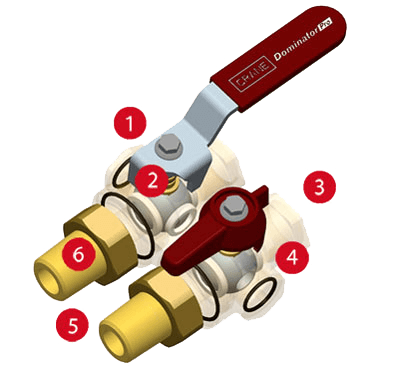 Benefits
Design Engineers
A compact design to help with space limitations.
Minimal design involvement.
All the necessary components supplied as one factory tested unit.
Saves time, reduces specification risks and provides maximum value to the client.
Known performance of the assembled unit.
Installing Contractors
Designed with the BSRIA BG29 guidelines in mind to aid flushing.
A lightweight design to reduce bracket requirements and ease installation.
Purchasing the individual components and assembling on site is time-consuming, repetitive work that requires considerable labour time.
The correct flow control valve will be selected for each terminal unit to avoid re-work and delays in project time plans.
Reduced risk of joint leaks (all units pre-tested).
Why Dynamic Balancing?
To maximise system efficiencies, it is essential that systems are correctly balanced. A dynamic balanced system results in correct, specified flow rates throughout the building, saving energy, reducing costs and is the key to providing a comfortable indoor environment.
Crane FS ProBalance range includes a variety of dynamic balancing valves that use the latest technology to maintain the required design flow rate, even in part load conditions.
The Crane FS ProBalance range of valves includes; DPCVs and PICVs ensuring pressure independent terminal control.
Crane FS manufacture Dominator PRO configurations for Direct Mount and Remote Mount, typically using Flexible Hoses.
Remote Mount
ZM4301
ZM4001FS – ZM4001FR
ZM40010S – ZM40010R
Direct Mount
Z40020S – Z40020R
Z4002FS – Z4002FR
Z4003FS – Z4003FR
Z4004FS – Z4004FR
Z4005FS – Z4005FR
Z40030S – Z40030R
Available Now
40mm centres, supply / return helps on mounting directly onto the fan coil unit.
View the Dominator Range
All flow control valves are sized by Crane FS to suit each terminal unit flow rate. Every unit is supplied tagged with terminal unit reference for ease of installation.