Fan Coil Units & Variable Flow
A Fan Coil Unit (FCU) provides heating and/or cooling via a heat exchanger (the coil) and fan. Hot and/or cold water is circulated through a coil within the FCU with a fan passing air across the coil and into the space that is to be temperature controlled.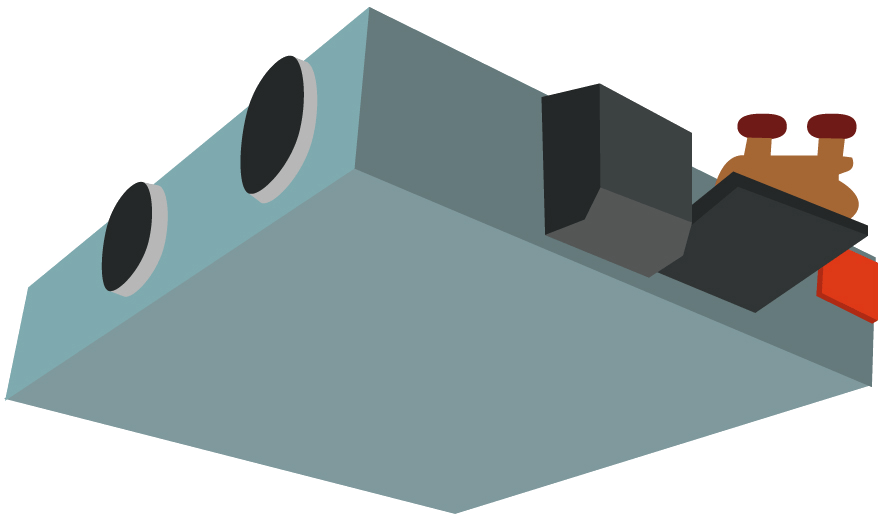 These units can be found in a number of diverse applications including offices, residential apartments, hospitals, hotels and schools. The FCU heat output is controlled using a control valve linked to the room via a thermostat. This in turn would be connected to a Building Management System (BMS), which controls the throughput of water to the heat exchanger.
As the energy output from the FCU is of a parabolic shape, an equal percentage (EQ%) control characteristic is provided by the control valve, which in turn will provide a linear response (see graph below). FCUs can be provided as a 2 pipe solution (either heating or chilled) or more commonly as a 4 pipe solution (heating and cooling).
Recommended Solutions
Crane FS has a number of applicable solutions available for this type of terminal. See examples below.
PICV has become the preferred solution for many designers and installers in recent years. However, the option of using the traditional DPCV method is still available and can suit certain applications.
Option 1
Pressure Independent Control Valve (PICV)
PICV Stand Alone
Easy to set up
Straightforward commissioning
No need for separate Commissioning Set and 2 Port Control Valve
Dominator w/ PICV
Can be remotely fitted away from the terminal
Reduced space constraints
Extended levers available for chilled systems
Dominator PRO w/ PICV
Direct mounting onto a terminal
Reduced installation time
No need for insulation due to mounting over drip tray
CommPac w/ PICV
Multi-manifold system allowing commissioning of up to 6 FCUs from one location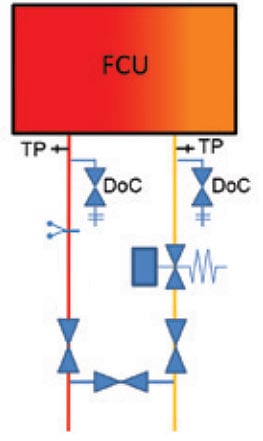 FCU with PICV
---
Option 2
Differential Pressure Control Valve (DPCV)
DPCV Stand Alone
Range of controllable dPs Available
Available with Companion Valve
Dominator w/ Comm. Set
Available with either static Commissioning Set or Motobalance
Available with Strainer
Extended levers available for chilled systems
Dominator PRO w/ Comm. Set
Direct mounting onto a terminal
Reduced installation time
No need for insulation due to mounting over drip tray
CommPac w/ DPCV
Multi-manifold system allowing commissioning of up to six FCUs from one location
Commissioning Sets on each terminal connection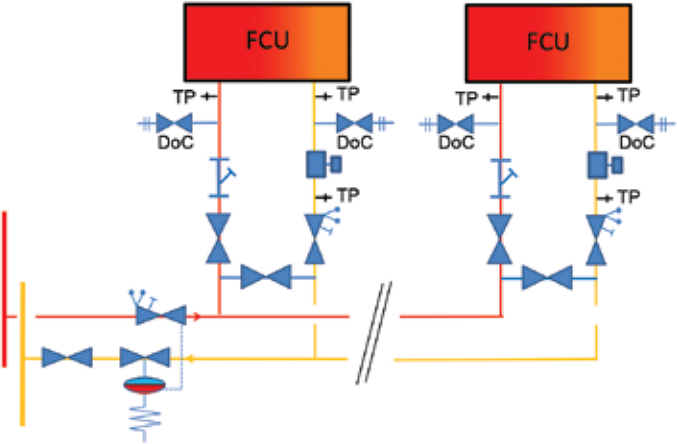 Grouped FCUs protected by a single DPCV